Saturday, November 6, 2021 – 7:00PM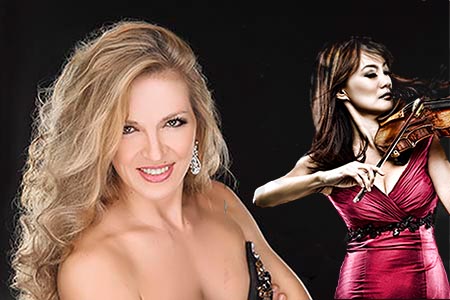 Smolina: "Mesmerizing and dynamic…"
– New York Times
Lee-Chin: "Finery and fireworks, it's just about perfect."
– The Straits Times, Singapore
Smolina: Performed with the Mariinsky Orchestra at Carnegie Hall, and with the New York Philharmonic
Lee-Chin: Performances have been broadcast on BBC World News, China Central TV, America's CBS, National Public Radio, and Singapore's MediaCorp.
Stunningly talented Svetlana Smolina is a highly sought-after world-renowned classical pianist who has performed, recorded, and collaborated with many famous musicians in numerous major world music centers. Smolina's performances include stunning renditions of recognizable tunes by Liszt, Chopin, Schumann, Rachmaninoff, Strauss, Gershwin, and more.
Singaporean violinist Lee-Chin Siow touches audiences with her charismatic stage presence in intimate recitals as well as the grandest of stages. As soloist, she has collaborated with renowned orchestras such as the Royal Philharmonic Orchestra, the Houston Symphony, Dallas Symphony, National Philharmonic of Ukraine, and more. A musical ambassador for Singapore, Lee-Chin has given command performances to Heads of State and extended Singapore's cultural influence beyond its shores.